Safari Gadgets – What To Bring Along On Safari
By Anwynn Louw – Digital Marketing Assistant
When planning a trip to East Africa, luggage weight restrictions can leave you scratching your head and wondering which items to leave behind, and which gadgets will be useful for your trip. Here are the must-have gadgets we think you'll need on your East African safari.
Smartphone
A mobile phone is the one gadget we almost always have on hand. A mobile phone with a high-end camera offers you a great alternative to a DSLR camera in the sense that it takes up less space and it's much easier to carry around.
A portable zoom lens kit for your mobile phone is a great investment, it won't take too much space in your luggage and it is light enough to carry around. The kits come complete with a tripod and a lens with a 22x zoom capability. While GoPro pretty much owns the action camera domain, you can invest in a mobile phone chest strap, and use your cell phone to achieve the same point-of-view function.
Image By Techtalons
Camera
A digital SLR or a mirror-less camera and lens kit are best if you are serious about your photography. The lenses generally range between 18 to 55mm or 18 to 105mm. You would benefit more from a long lens of up to 300mm if you would like to get close-up footage of your subject.
Action Cameras – GoPro cameras have become the number one go-to for action cameras. These miniature cameras deliver high-quality videos and photos and you can mount them just about anywhere. While on safari, you may not have all the devices you need to download or backup your photos or videos, but GoPro's useful app allows you to download your content directly to your phone, tablet, or laptop.
DJI Osmo are giving GoPro a run for their money and have designed a number of ingenous gadgets that could tickle your fancy. They are the company behind the best drones in the world and now they have their own range of action cameras too. Boasting 4k60fps footage, HDR videos, slow motion recording, "rockSteady" stabilisation front and back screens as well as being waterproof – you have got to check this out. They have an even smaller handheld camera which shoots better quality video footage than your camera and has an impressive array of features including 4k video footage, 60fps for insane slow motion videos, POV, ActiveTrack and FaceTrack modes, and so much more. See more of this handy devide here.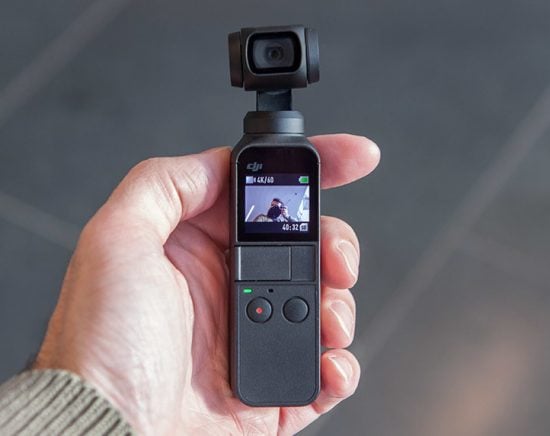 DJI Osmo Pocket
Accessories – remember to pack in a spare battery and additional memory cards is always a good idea. There is nothing more frustrating than running out of space on your memory card or having your battery life run out during your game drive. Be sure to have a lens cleaning kit too!Ensure that you charge all your batteries and rechargeable devices during the night so that you are ready for action when you wake the next day.
If you've ever been on a game drive before, you probably know how bumpy the roads can get at times. Tripods are generally bulky items and not something you'd think to pack with you but SwitchPod have designed one that can be bundled up to save space. This tiny tripod can be handheld or flipped out so that there are three legs for you to stand your camera on.
The SwitchPod Tripod
If you're keen on learning more about photography on safari, then this blog is for you.
Binoculars
A good pair of binoculars is essential for amazing wildlife viewing experiences when wildlife are a little too far away to appreciate fully. It's also a good idea to have one pair per person in your group, sharing might become a little tiresome and you might miss an opportunity to spot a lion or leopard before it disappears into the distance.
When you only have an iPhone to capture your memories a great accessory for your binoculars is the Hookupz iPhone Bino Adapter. This nifty gadget is made to fit most full-sized binoculars and connects to your iPhone 5/5S/SE, allowing you to take an image of what you are seeing through the binocular's lens. If you have an iPhone 4/4s you can use a conversion kit to connect the bino adapter too.
Image by Carson
Sunglasses
You are probably thinking why a proper pair of sunglasses would be important on safari, but the African sun can be harsh, and we encourage you to invest in a good pair before you join us in East Africa. A pair of polarized sunglasses are preferred, they reduce UV exposure and glare as well as allow for better contrast. All in all, they are more comfortable for your eyes and reduce the strain you put on them.
For the younger safari goers and lovers of Snapchat there is a trendier option with a cool add on; sunglasses with a video recording function and tinted lenses which shield your eyes from the harmful rays of the sun. This handsfree camera allows the user to capture high definition photos and videos the way they see it. Some of these sunglasses are water resistant and allows for multiple export formats, too. If you have children joining your trip, you may want to research some of the option available.
Image by PC Link Computers
Extras:
A backup hard drive for your images and any necessary chargers and cables you may need
An AC plug point converter to the 3-prong square that we use in East Africa
An LED torch or headlamp is always handy, we do provide torches in our rooms however they are not LED
You may find yourself walking through the African landscapes on a Walking Safari so why not pack in your FitBit? You'll be adding some extra steps to your daily count while exploring the bush and learning about Africa's wild places.
---